Shridev Jasnath Trust was filed with the Registration & Stamps Department, Office of the Sub Registrar Jodhpur on March 21, 2012, Document S. No. #2012006353
Shridev Jasnath Trust qualifies tax rebate under income tax Act 1961 of section 80G order no.83/51 and section 12A order no. 39/81.
It is registered under Rajasthan public trust act 1959. Registration no.03/Nagaur/2019. And Niti Aayog, Government of India ID: RJ/2020/0254437
Rajasthan gained its predominance in Education, Dharma, and for the pure behavior of its inhabitants. As the cradle of Indian ancient civilization, it has grown into the land of saints, siddhas and sadhus, and incomparable patriots. Shri Jasnath Asan is one of the oldest educational, social, and religious institutions in the Marwar region – the trading hub of ancient India.
In April 2010 Shridev Jasnath Trust was established to maintain the values and mission of previous gurus who lead the disciples of Shri Jasnath, the saint, siddha and ecologist who founded the spiritual tradition in the 15th century. Lead by a Board of Trustees, our continuing mission is to bring equality, peace and love to all humans, creatures and the ecological system which supports our continued learning.
Mission
We seek to manifest the directives of the Trust:
To set up, run and maintain schools, colleges, and/or any other educational institution and to pay stipend, scholarships and other aids to deserving and/or needy students.
To promote education, especially for women, underprivileged children and to combat adult illiteracy, and to support everyone to learn a trade or skill, particularly support yoga education at all levels.
To set up medical institute, clinic, hospital, research centre or such other allied medical institute for the benefit of common man.
For the promotion of spiritual up-liftment.
We play an active role in thousands of families' daily life in the form of education and inspiration. Many of our programs are being mobilized to take them on the road by volunteers from India, Americas and Europe. And we are planning a publication for families who are still beyond our consistent geographical reach. Shridev Jasnath Trust is dedicated to setting up, running, and maintaining a wide variety of programs designed to lift people and nature out of its suffering, and into equilibrium.
Shridev Jasnath Trust Activities
Village Regeneration
SJA is partnering with the leadership of Panchla Siddha and Nagaur District to vitalize the lifestyles and businesses of local families through our Village Regeneration strategies. Plans for the following activities are synchronized with district and state initiatives:
Communications
Alternative energy
Waste management
Public library
Public infrastructure improvements
English Coaching
Many underprivileged students are on SJA scholarship in public and private schools. Others come to the ashram daily for English tutoring.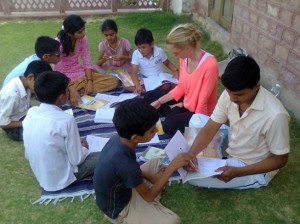 Free Yoga
We believe that yoga can solve the world's problems, and so dedicate most of our time to spreading yoga "from door to door and shore to shore."
We offer classes daily in the ashram yoga hall or garden, a travelling 'Yoga Jagran', and an annual international tour.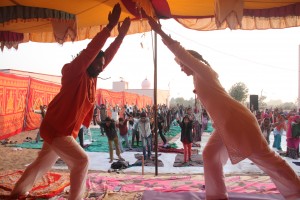 Annual Girls' Yoga Empowerment Camp
"The woman should address the
assembly as a commander."
~ RV 10.85.26
In preparation for women to take a more prominent role in all sectors of Indian society, SJA places great emphasis on the revaluation of the status and role of women as it was intended in the Tantras.Read more…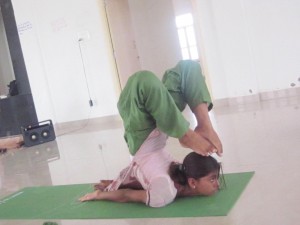 Yoga Therapy
SJA is conducting research and personal/group applications for therapeutic interventions in common ailments such as spine injuries, epilepsy, and miscarriage. We offer:
Group class weekly
Monthly yoga therapy program
Individual yoga therapy care
Long-term research in the effects of yoga in a
variety of maladies. Read more…
Sponsorship of Traditional Musicians
The unique music created by the tradition's founder is being lost due to attrition, but not lack of interest. Many aspiring musicians seek to retain the philosophy and skill of the Jasnathi Raga for future generations, but lack the resources to come together for practice. SJA funds such endeavors, as well as professional recordings and copyright attorney fees to ensure ownership remains inside India.
Water Conservation Research
Water shortage is a growing problem throughout India, but especially in the arid region surrounding the Thar desert. SJA collaborates with scientists and ecologists in India and Israel to make use of cutting edge technologies in the pursuit of a variety of solutions, including:
Bhandara
SJA is committed to carrying for its visitors and the community by:
Feeding all pilgrims
Distributing winter clothes and blankets to the needy
Funding the Gau Seva (Cow Yard)
Medical Camps
Only 1% of eligible Indians donate blood, leading to a monthly shortage of 12 million units as current supplies expire within a month. SJA is dedicated to raising awareness in our rural environment of the need to donate whenever possible, inviting a collection unit to the ashram twice annually.
We also provide individual counseling to the unwell seeking interpretation and second opinion on allopathic courses of intervention.
Blood Drives
Free Published Health in Hindi
Daily Health Counseling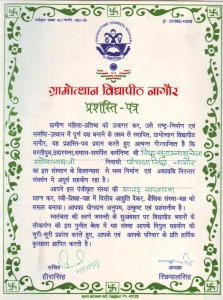 Gramothan Vidya Peeth (Village Girl's School) Nagaur
Cert. of Praise, for nation building, progress and all around development.
Certificate of Praise from Dept. of Agriculture, Gov. of Rajasthan, and the New and Renewable Energy Ministry of India, for good work in the Solar Pumping Project at SJA Eco-Retreat, for Jodhpur District.